A toilet, is a toilet, is a toilet. Right? Well, not exactly.
Not all toilets are created equal. These days, the humble toilet is not so humble. There are in fact a lot of different types of toilets to choose from. So whether you're renovating a home bathroom or fitting out an entire commercial project, it's important to make sure you pick the right toilet for the style and size of the bathroom you're working on. 
After all, a bathroom just isn't complete without the perfect porcelain throne. 
Every style of toilet has its own advantages. Understanding the differences is crucial to help you decide which is the best and most suitable for your bathroom. 
Fewer people these days want a traditional Link or Skew toilet and are moving towards the following four popular types of toilets: 
•    Close coupled toilets
•    Back to wall toilets  
•    Wall hung toilet (with in-wall cistern and frame)
•    Wall faced toilet (with in-wall cistern)
Let's take a quick look at the differences between each type as well as their pros and cons. 
Close coupled toilets
Close coupled toilets are probably the most commonly used type of toilet. The cistern is placed directly behind the toilet bowl which is joined with the pan to hide the flush pipe. This is unlike old fashioned toilets in which the cistern was suspended overhead, often a few feet from the pan with exposed piping. 
A closed coupled toilet will have space between the wall and the back of the toilet. The flush button is located on top of the cistern. 
Pros
These types of toilets are quick, easy and economical to install, making them ideal for just about any type of bathroom.  They are an especially good choice if you're doing a bathroom renovation and you have fixed plumbing and don't want to have to re-plumb or re-tile the whole bathroom.
Cons
The space between the wall and the toilet base can be tricky to keep clean around as it will inevitably accumulate dust. 
Additionally, close coupled toilets are seen by some as a bit lacking in style as there are more modern and streamlined alternatives available. 
Back to wall toilets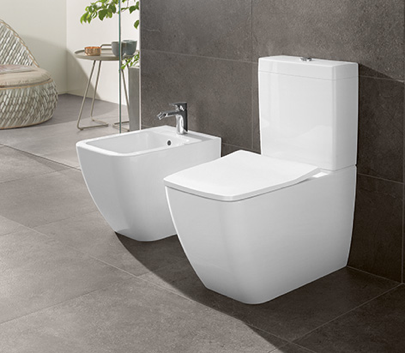 With a back to wall type of toilet, the back of the cistern sits above the toilet pan and the whole unit is flush against the wall. Unlike a close coupled toilet, there is no gap or space between the toilet and the wall. 
Pros
A back to wall toilet is effectively a single, solid unit, making for a sleek and stylish design. As there are no tight crevices behind the back of the toilet, they are very easy to keep clean and all the pipe work is concealed.
They are also easy to maintain as the cistern can be quickly accessed if there is a need for repairs.
Most back to wall toilets offer flexible S trap (plumbing through the floor) and P trap (plumbing through the wall) installation options.
Cons
If you're looking to install a back to wall toilet, be aware that these types of toilets may not fit existing water inlet options in certain retro fit situations. 
Wall hung toilets (with in-wall cistern and frame)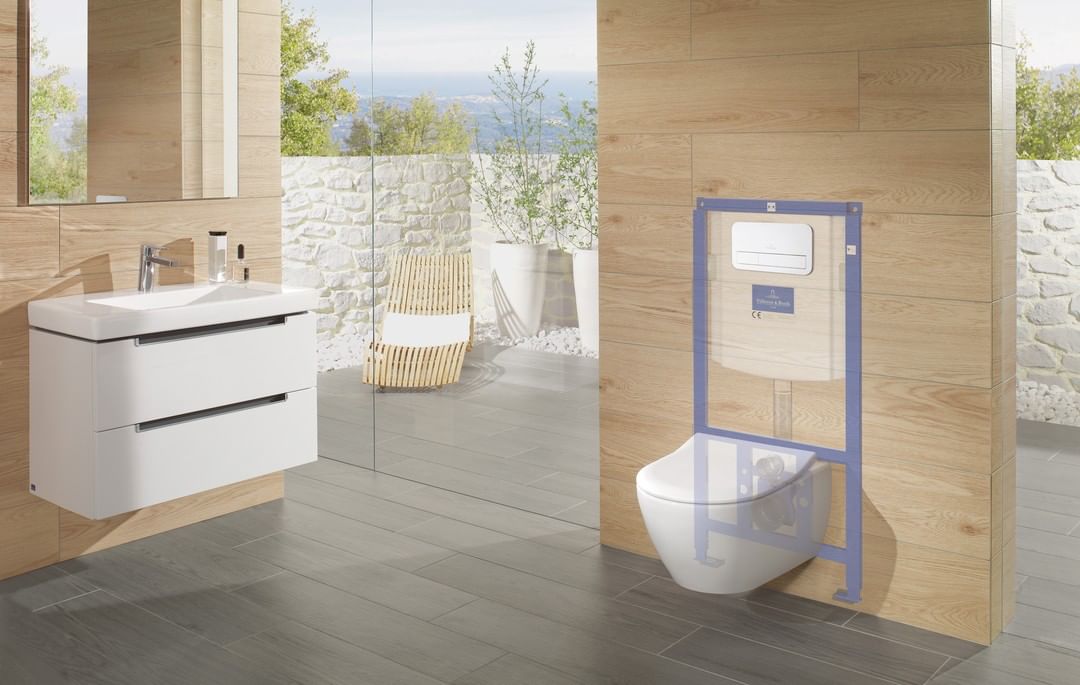 Wall hung toilets (also referred to as wall mounted toilets) have recently become a must-pick for many interior designers due to their spacious, delicate, modern look and amazing versatility. 
As the name would suggest, they are mounted to the wall and sit above the floor, eliminating the need for a toilet foot or base. They utilise an in-wall cistern and frame.
Pros
Having a gap beneath the toilet creates the feeling of more space, which is perfect for smaller bathrooms that need a bit more breathability. 
Wall hung toilets also offer the advantage of being able to install the pan at a range of heights to suit people of all needs without sacrificing comfort.  This makes them ideal for transfers for people using a wheelchair or a walker. 
Being able to easily sweep and mop beneath the toilet is also seen by many as another great benefit.
Finally, having the cistern in the wall delivers super quiet performance.
Cons
Whilst a wall hung design boasts many practical and stylistic advantages, they do require a bit more planning to accommodate the in-wall cistern and frame. This, along with the higher price-point, make some turn to a different alternative.
Wall faced toilets (with in-wall cistern)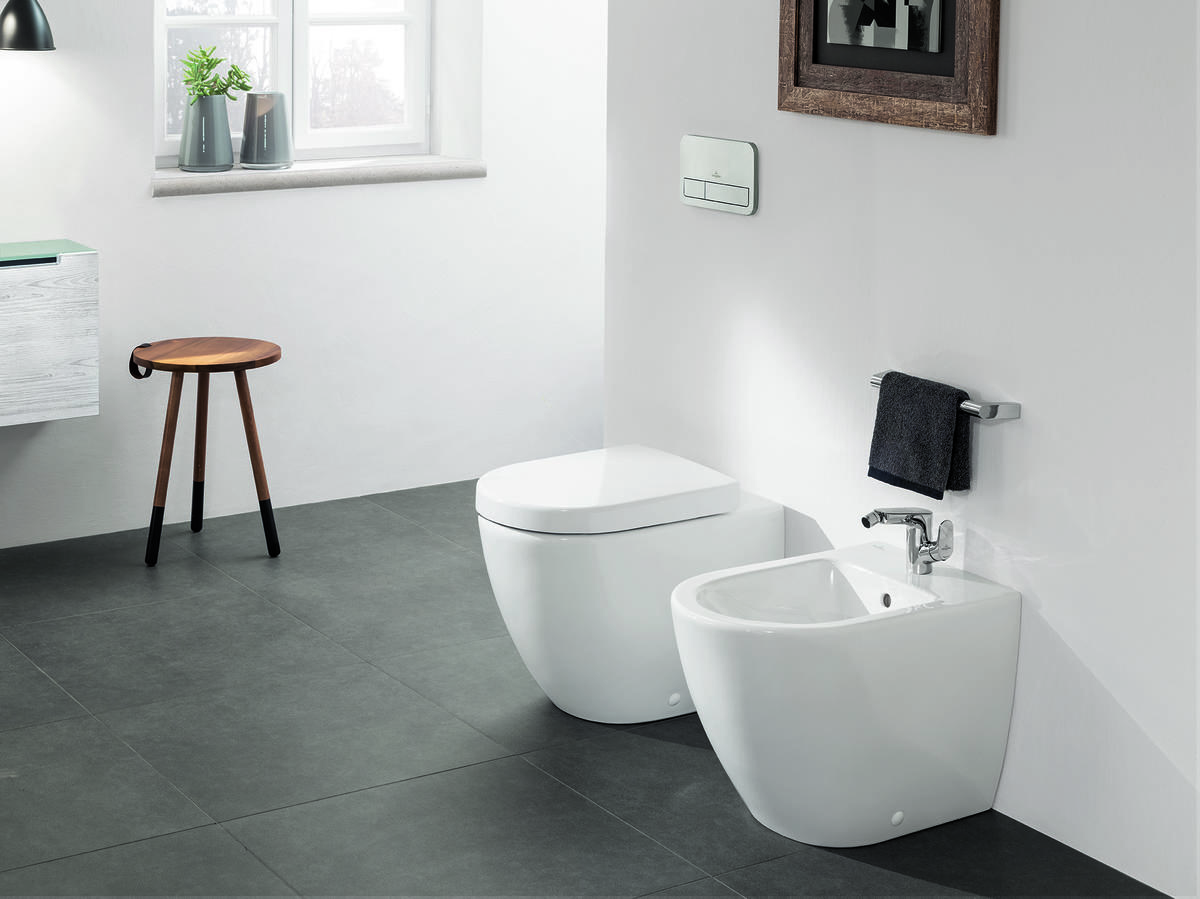 A wall faced toilet is mounted directly onto the floor, just like a back to wall toilet, but instead has an in-wall cistern. Unlike a wall hung toilet, there is no gap between the floor and the bottom of the pan. 
All plumbing and waste pipes flow straight into the wall or floor, making everything hidden from view.
Pros
Wall faced toilets are a highly popular choice these days. Their floor-mounted design allows for the alternative option of an S-trap installation through the floor instead of through the wall. This makes converting your existing toilet a breeze.
They are easy to keep clean and offer super quiet performance. 
For some people, it is a great advantage not having to clean under it, instead only needing to clean around it, although this is simply a matter of personal preference.  
Repairs can easily be done by unclicking the flushplate.
Cons
Similar to a wall hung toilet, a wall faced toilet with an in-wall cistern is a slightly more expensive option as they take longer to install. 
If major repairs need to be conducted, it can become costly to do so. This is because it's more complicated to access the in-wall cistern.
Other factors to consider 
Choosing the style of toilet which is right for your bathroom isn't the only thing to think about. Here's some other key factors to consider…
Ease of cleaning
Let's face it, no one enjoys cleaning a toilet. 
The good news is that many high quality bathroom brands offer innovative and hygienic features that make it easier to keep your toilet clean, such as:
DirectFlush® Technology by Villeroy & Boch - the total interior of a DirectFlush® toilet bowl gets completely flushed with each use. Plus, the rimless design allows for easy care and immaculate cleaning.
CeramicPlus® by Villeroy & Boch – toilets coated with CeramicPlus® immediately form droplets when fluids make contact, then bead off into the outlet. Residues such as dirt and scale can hardly stick to the surface and are easily wiped away. 
Hygienic Flush by Argent – the subtle anti-splash lip means no more unwanted splashing. The even flush distribution covers every part of the bowl and minimises the time you spend cleaning, 
The seat 
Many modern toilets, such as those by Argent, now come with a soft-closing toilet seat which are a practical and quiet alternative to traditional toilet seats. The modern and functional design means that these toilet seats close slowly in a controlled manner without requiring assistance. 
The key benefits of a soft-closing seat are minimal noise and safer use for young children. Soft-closing seats also offer easier maintenance as they often come with a quick release function which allows you to remove the toilet seat completely.
Space 
Before you purchase a new toilet, you need to determine how much space you have to install it. One of the most important of these measurements is the distance between the waste outlet and the wall, called the rough-in. The standard S trap distance is 140mm but a distance of 180-240mm is occasionally found in older homes, which can easily be resolved with a back to wall toilet.
There are plenty of compact toilets on the market if you're limited in space. Choosing a wall hung or wall faced toilet can be a great option for small bathrooms as they take up the least amount of footprint. 
Plumbing
You'll need to consider whether or not you'll need to replace your existing plumbing when you're buying a new toilet, especially if you're opting for a toilet with an in-wall cistern.  
Installing an in-wall cistern can be a challenge in terms of space and can also become quite costly. It's best to speak to a plumber or bathroom product expert before making any final decisions so you know what your options are. 


Need help picking the right toilet for your bathroom? Talk to the team at Argent. 
Whether you're renovating a home bathroom or working on a commercial project, Argent is here to help. 
Our bathroom experts have all the right know-how to recommend the perfect products for your needs so that you can make that final decision with confidence. 
Click here to get in touch with us today. We have Resource Centers in Brisbane, Sydney, Melbourne and Perth. 
Or give our Customer Support team a call on 1300 364 748.